What is Live Online Casino?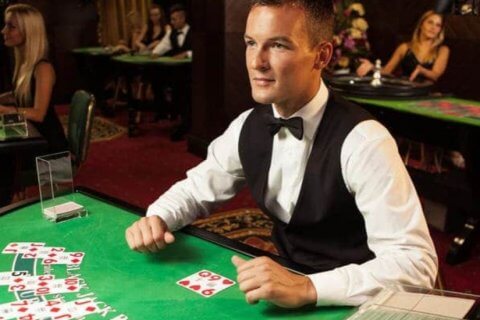 Regardless of your favourite casino game, we can all agree how nothing beats the sound of cards being shuffled and chips being put at the table. However, for many years even the best RNG online casino games couldn't compare with the experience of playing at a brick-and-mortar venue. Now, this has come to an end, thanks to the rise of live casino gaming.
But what are live casinos, and how do they actually work? And are they for real, or just another way of presenting the RNG games to a wider audience. Keep reading to find out!
Live Casino – definition
Live casino is a special type of iGaming that highly resembles playing at a real casino. Also known as live tables or live dealers, it connects the dealer and the player thanks to the latest technologies. Live dealers games come in even more variants than those at land-based establishments.
How Live Casinos Work?
Every software provider or live gaming supplier will have its own technologies to make sure everything works perfectly. However, all live casinos have the same elements to them.
Dealer – unlike RNG games, there are no graphics or animations, as a dealer makes all the moves. Nowadays, live casinos employ only highly professional dealers with a great experience of working at the most prestigious casinos. Also, just like at a real casino, a dealer is usually specialized in just one game.
Studio – the dealer is located in the studio, which is luxuriously designed. Sometimes, every dealer gets its designated room, and sometimes they all work together, from the same lobby, thus creating an atmosphere very similar to that in true casinos.
Equipment – all cards and contraptions (such as wheels, shoes, and dice tumblers) are 100% real and the same as those used at standard gaming halls. The only difference is that live games sometimes include bigger cards, so they are more visible in the camera's eye. Furthermore, some games also include 3D visuals and sound effects, which are not possible at regular casinos.
Cameras and streams – the streaming technology is always top secret, but multiple cameras follow every move the dealer makes, so there is no way they can manipulate the outcome. All actions are displayed on your desktop or mobile device in real-time.
How to Play at Live Casinos?
To play at a live casino, you first have to sign up and make a deposit. One deposit usually covers all genres available at online casinos, so there are no additional financial requirements for live tables. Then, choose the game you like, and join the table. You will notice how some games have a limited number of participants, so you may have to wait for a place to get open, just like you would in Las Vegas or Macau. Here is how the entire process looks like:
Join the table.
Wait for the dealer to announce the round. Most commonly, the dealer will say, "Please, place your bets" or something like that.
You type the stake in the required field and submit it.
The dealer will close the bets. This means no more bets are allowed.
The dealer will start the game by spinning the wheel or dealing the cards. At this point, the dealer will inform you about your options (sit, fold, hit, e.g.)
The dealer announces the winning combination.
The new round starts.
As you can see, live casino games are played at a much higher pace than RNG games.
Most Popular Live Casino Games
Solid live casinos can compare to any real gaming venue. You will most certainly find blackjack, live roulette, baccarat, and casino poker. Casino poker is played directly against the house and mustn't be confused with peer-to-peer poker. There will also be a fair share of local titles like Teen Patti, Andar Bahar, Sic Bo, and Tiger Dragon.
A special highlight of every live casino is game shows. Such games are usually multi-genre titles and feature stunning visual effects. Many of them are based on the traditional money wheel that allows you to trigger multipliers, boosters, respins, and other features for sky-high payouts.