European Blackjack Gold - Play Online Blackjack
European Blackjack Gold Review & Experience
Gamblers who play blackjack for real money online usually opt for either American or European variation. In this case scenario, we will stay focused on European version, called European Blackjack Gold. The game is developed by Microgaming and these days it is one of the most popular titles by this software developer. It has relatively simple rules and it can be found at numerous online casinos.
European Blackjack Gold offers decent graphics, simple sound effects, and an overall simple gambling experience. It is designed to be simple primarily and then to offer all the main features a gambler would need at some point. That being said, there are no polished graphics, smooth animations, or similar advantages. The game is basic in the lack of a better word. On the other hand, the game offers compatibility with Android and iOS devices. You can play it on tablets as well. We believe that most players will play it on computers and laptops and this is a case scenario in which the game stands out. The overall gameplay is worthy of Microgaming name and you will probably enjoy more than ever before.
Rules are straightforward. The dealer in the game will stand on hard or soft 17. There is no peeking at the cards and you can double down on cards with a value between 9 and 11. Split option is available but only one time and you can use it on your first run only. The payout is standard with 3:2. Players can use insurance while playing. Placing a bet is easy and you will use a range between 1 and 200. Surrender isn't possible in the game. Chips you can use are 0.5, 1, 5, 10, 25, 50, 100, and the largest 200. You will have to click on the desired chip and then on the table position to place a bet. 1 hand is available and the game is played with 2 decks.
We offer a lot of free Microgaming casino games to play in demo mode. European Blackjack Gold is no different. Above the review you can see the demo version. It is completely free and it offers you the ability to play without investing any amount of money. You can play on any device and you can play as long as you want. The main idea behind the version is to learn all about the game and to test it, to see is this something you would like to play with real money at online casinos.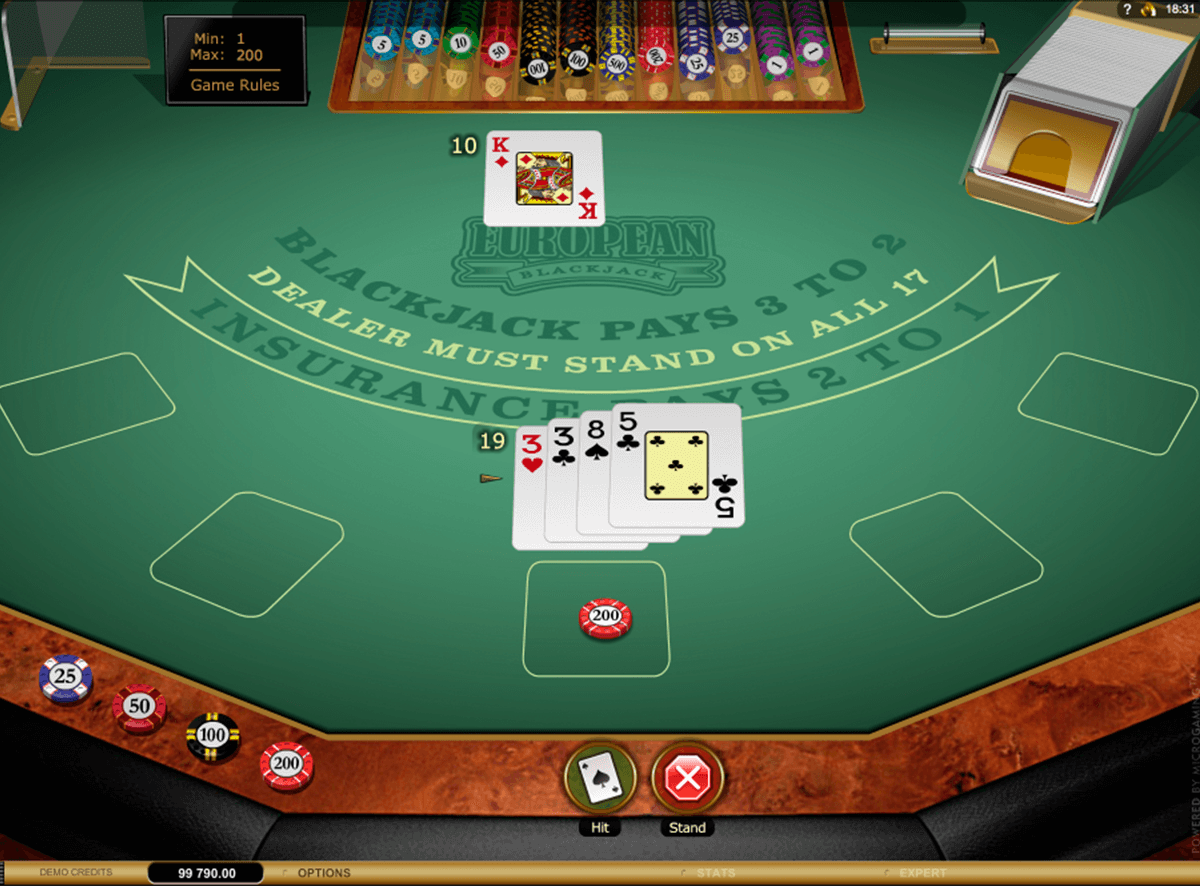 Most played Microgaming Online Blackjack