Triple Wins Star Ticket - Play Online Scratch Card
Triple Wins Star Ticket Review & Experience
Today we will present you one of scratch cards online India loves. The name is Triple Wins Star Ticket, and it is developed completely by NetEnt. The game offers glamour and Hollywood experience, which is rare in the world of scratchcard games. Triple Wins Star Ticket is easy to play, and there are no major processes, steps, or anything like that. However, it is also different than the others. You can see the advanced graphics, standard for all NetEnt games and you can see various options presented to you. The game has two main panels.
The first panels are on the left, and there you can see the card you have just purchased. On the right side, you can see the 10 tickets, and you will need to purchase one to play. Once you are done, the ticket will be presented on the left side, and you can scratch the fields. The layout is 3×3. As usual, NetEnt offers different tools you can use to scratch the card. They include car keys, casino chip, a coin, and also a plectrum for a guitar. You pick the one you like the most, and you simply scratch the surface of the ticket. The symbols will be presented. Keep in mind that scratch all option is available. Here you can click the button, and you will see all the symbols revealed immediately. Rewards vary, but you can win up to 800 times the stake.
We can help you play free Triple Wins Star Ticket on this very page. We have posted a demo version that is identical to the full version, but it is entirely free and uses virtual money. Players are welcome to try out the game and see it suitable for their gambling characteristics before they play it at an online casino.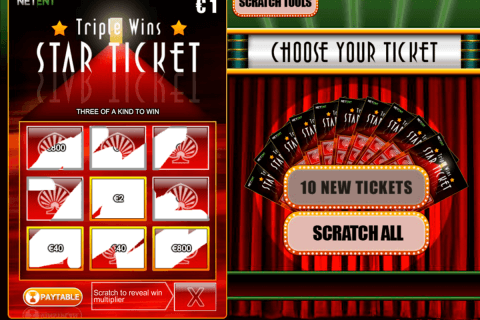 Play Triple Wins Star Ticket in Casino for Real Money
Most played NetEnt Online Scratch Cards